INTRODUCING
New Comprehensive Acrylic Pouring Online Course
Exclusive access to Olga's brand new acrylic pouring paint mixing recipe that will significantly improve the performance of your acrylics, eliminate cracks and crazing, and get a killer cell reaction while keeping the price low!
Comprehensive fluid paint Consistency manual and downloadable materials
Olga's Cells and Layering secrets that she uses to get the best results in her fluid art painting + tutorials on how to use her layering method in Dutch Pour, Open Cup, Dirty Pour, and other techniques.
Expert instructions and professional step-by-step video lessons
Detailed tools & supplies guide with links and lists of alternative materials
Access to all the future updates in this course
"By taking this course, I finally am able to achieve the effects I have wanted in my art work. Tons of beautiful cells in just the places I wanted them! The colors are blending so beautiful now and I can't Thank you enough for being an outstanding teacher and guide to fluid art for me. You truly have a gift and thanks for sharing it!"
- Shirley H. -
MEET YOUR INSTRUCTOR
Olga Soby
Olga Soby is an internationally recognized contemporary artist based in Canada with roots going back to Ukraine. She specializes in fluid media and considers herself an unconventional artist – instead of regular brushes, she uses water, fire, airflow, and gravity as her tools for achieving the most unique effects in her art.
Her works find homes in private collections around the world. She joyfully shares her painting process with over 1.5+ million audience teaching, inspiring, and encouraging aspiring artists from all over the globe.
And in this course, she is finally ready to share the secrets of her mastery with the world!
Whether you're a beginner or a seasoned pro, you'll discover valuable insights and techniques to take your artistry to new heights!
What's Included In This Online Course: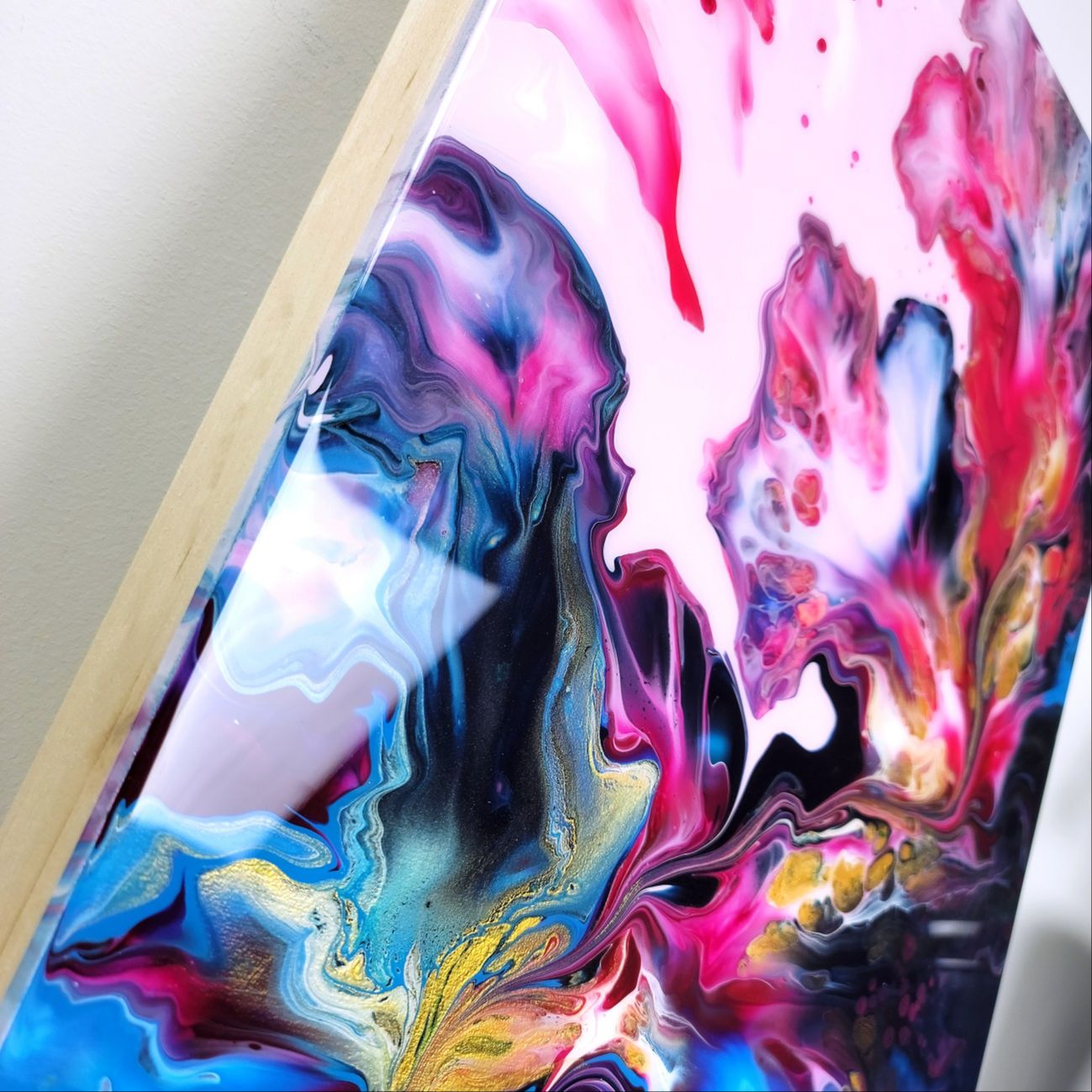 Dive into the World of Acrylic Paint
In the first part of this comprehensive course, you will learn:
Acrylic Paint Composition and how it affects paint mixing and drying process
Understand Viscosity, Opacity/Transparency, Lightfastness, and other important properties of acrylic paint
Olga's newest favorite acrylic paint brands - extended list
Get to Know the Best Tools and Supplies
Choosing the tools and accessories can make a world of difference in the final outcome of your paintings. So In this chapter, you will learn Olga's top-notch recommendations on:
The best supplies for mixing and storing your fluid acrylics
Valuable insight on how to prepare your canvas for acrylic pouring techniques
Get Olga's personal recommendations on blow dryer & concentrator brands, open cups and funnels, brushes, and so much more
Discover Soby Pouring Recipe
New and never seen by the world! It took over 2 years to develop and perfect this recipe, and now this magical combination of simple ingredients is ready to help you:
Get Beautiful Cells and Lacing
Reduce chances of crazing, cracking, and any other unpleasant surprises during the drying process
Keep pouring recipe based mainly on water which allows keeping the cost low
Master Fluid Paint Consistency
Paint Mixing Recipe is King, but Consistency is the Queen! Therefore in this course, you will learn:
Fluid paint consistency used by Olga Soby, and how to get it right every single time
Consistency Standard
BONUS: Downloadable materials for the best consistency test
No more guessing whether your paint is too thin or too thick!
Learn How To Properly Mix Your Fluid Acrylics
Mixing paint is a critical and often underrated aspect of fluid art creation. Proper mixing techniques ensure that the paint consistency is optimal for achieving desired effects. Therefore in this section, you will master:

Stages of paint mixing
Detailed guide on how to mix acrylic paint with new Soby Recipe

Insights and tips on how to store and extend the shelf life of your premixed acrylics
Uncover Cells and Layering Secrets
Discover the secrets behind creating captivating cellular patterns that add depth and visual intrigue to your artwork.
Understand the science behind acrylic pouring cells

Find out how to create breathtaking patterns on your canvas with Olga's new 2-group layering method

Learn how to get no cells if you don't want them
Elevate Your Pouring Technique Skills
In this section, you will learn how to use Olga's 2-group layering method to achieve beautiful results with:
Blowout (Dutch Pour) technique step-by-step tutorial
Dancing Flow technique

step-by-step tutorial

Open Cup technique

step-by-step tutorial

Dirty Pour technique

step-by-step tutorial
SOUNDS AMAZING? WAIT, THERE IS MORE!
Get Access to These Bonuses:
Learn how to prevent colors from SINKING INTO BASE
Discover how to avoid
CRAZING & CRACKING
Know what to do if your colors are TOO FLUID
Get access to our exclusive AFFILIATE PROGRAM
This Course Is For You If...
You want to master fluid paint Consistency
You want to stop guessing and relying on fortune when creating cells
You are tired of wasting paint, canvases, and your precious time
You want to eliminate crazing, cracking, and paint separation in your artworks
You are ready to unlock your creative potential and get consistently beautiful results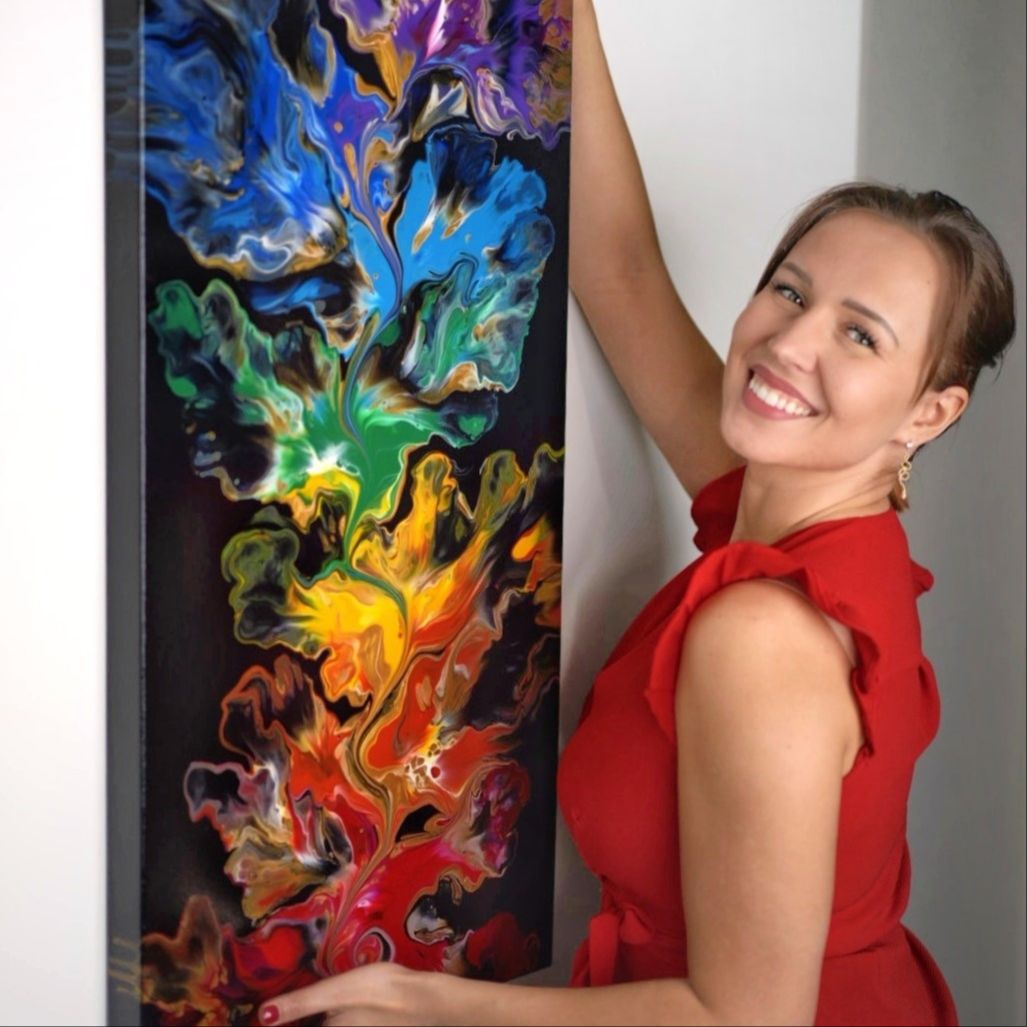 "Thank you Olga for sharing your knowledge!! I must say you gave a lot of valuable information. Learning about the densities and layering was particularly interesting. Now I understand, why I got some of the results in my art. Simply put... my colors were layered wrong!! I encourage anyone with an interest in fluid art to take all of your courses. All of them have taught me so much and your presentation is so easy to follow. You truly are mesmerizing to watch and really stimulate my mind to really go for it. Thank you for inspiring me and giving me the courage to press on. Thank you from the bottom of my heART. ❤ "
- Shelley
Hi Olga! I'm not a beginner in fluid art but I knew I if I took your course I would still learn so much more ! My favorite part was learning about the denser paints and how to apply the layers to achieve the look you desire ! Also I can't wait to try out your pouring medium recipe! It's so smooth and silky! You really presented an intelligent approach to understanding the dynamics of fluid art! Now I will go back and watch it all over once again! "
- Susan
"Olga, this course was extremely helpful. I never understood why viscosity mattered when we were making the paint fluid anyway. I now fully understand. Thank you! I've been painting for 3 yrs and my results would rarely turn out how I expected or wanted even though they were pretty. Now that you have taught me in depth about layering the paints I really think I can get the results I'm wanting. **Incredible course** Thank you for putting this out for us all to learn from."
- Shelly
"Olga, I have followed you for a long time and love watching your videos. Thank you for your dedication to teaching others and helping all who watch succeed. I have tried to emulate your technique but have not been able to with a great amount of success. The recipe and layering portions of the course are amazing. So helpful! I can't wait to try the new recipe. Thank you, thank you! I wish you great success with this course and can't wait to refer others to it."
- Laura
"Hi! I am beyond thrilled to finally have taken this course, Olga! Your course is incredibly well-structured, detailed, and informative. I have learned so much already, and I can't wait to see what else you have in store for us. One thing I really appreciate about your recipe is that it is given with exact measurements. This makes it so much easier to follow along and ensure that I am getting the right consistency for my paints. "
- Riitu
Will I be Able to Get Supplies in My Country?
Can I take this course in different languages?
Is it good for beginners?
Can Your Recipe be Used for Bloom Technique?