New, Unique, and Exciting Course that Takes You Behind the Scenes Where Olga Reveals for the First Time, Her Secret New Pouring Medium Recipe for Perfect Consistency, and Gorgeous Cells… Every Time
Here's A Sample Of What You Will Learn Inside
Olga's Secret Pouring Medium Recipe she spent over two years and thousands of dollars perfecting (this will revolutionize your fluid art with spectacular success)
How to achieve the perfect cell formations every time with fantastic precision (hint: it doesn't require adding Floetrol or Silicone oil)
Why your painting has cracks and crazing when it drys and the simple hack to prevent it (finally put an end to this common disheartening problem once and for all)
How to achieve the correct consistency with all your colors in minutes and avoid the frustration of your paint not flowing evenly, and other problems with blow dryer techniques
Why your colors are sinking into the base and how to prevent it so you don't ruin your work
Breathtaking layering methods for popular fluid art techniques that give stunning cells with surprising simplicity. And so much more!
"Absolutely everything in this course has inspired me to not give up! I was so frustrated that sometimes my paintings come out beautiful with no flaws, and other times they are a mess! Olga, you have addressed each thing I needed to understand in order to achieve my painting goals. I especially like learning how to layer the colors, #1 & #2; It makes so much sense. You delivered each lesson in a concise, very informative, and very positive way. Your joy of painting and sharing your passion for art shines through in everything you do. Thank you for creating this course!"
- Amy C. -
MEET YOUR INSTRUCTOR
Olga Soby
Olga Soby is an internationally recognized contemporary artist based in Canada with roots going back to Ukraine. She specializes in fluid media and considers herself an unconventional artist – instead of regular brushes, she uses water, fire, airflow, and gravity as her tools for achieving the most unique effects in her art.
Her works find homes in private collections around the world. She joyfully shares her painting process with over 1.5+ million audience teaching, inspiring, and encouraging aspiring artists from all over the globe.
And in this course, she is finally ready to share the secrets of her mastery with the world!
You'll Love How Secret Recipe For Fluid Art Success Is Delivered In 7 Easy-To-Follow Step-By-Step Modules
MODULE #1
Acrylic Paint - Must-Know Properties, Brands, and Two Groups of Colors
We start by understanding Acrylic Paint Composition, how it affects paint mixing, and the drying process. Here you will learn:
The science behind the 4 core ingredients of paint with Olga explaining it in an easy-to-understand manner
The different Viscosity, Lightfastness, Opacity & Transparency, and Paint Grades available and how to choose the correct paints to achieve your desired outcome
Why mixing with water only can lead to crazing and cracking when the paint dries, causing disappointment and heartache, and how to avoid it
In-depth knowledge of how to read paint labels so you can find the best paints for your artistic needs
Olga's extensive list of her favorite acrylic paint brands that won't break your budget
"Olga! This course was wonderful! What I learned the most was your paint groups, pouring medium and measurements. I absolutely loved this course and cannot wait to begin experimenting. Thank you so much for all the great information."
- Linda -
MODULE #2
Mixing Supplies and Pouring Tools for Success
Now that you have an understanding of the paint you will be using, let's take a look at other materials you'll need.
The next step is to choose the right tools and accessories so you have everything you need to create your next masterpiece. In this module you will learn:
Valuable insight on how to prepare your canvas for acrylic pouring techniques
The best supplies for mixing and storing your fluid acrylics
Olga's recommendations on the blow dryer and concentrator brands, open cups, funnels, brushes, and so much more
"Hi Olga, thank you for turning my world of painting in 180 degrees. After seeing 100s of YouTube videos from other artists, this course gave me more understanding of the basics. You have to learn them in order to move on. Thank you for sharing your experience."
- Kathy K. -
MODULE #3
Soby Pouring Medium Recipe - What. Why. How.
Revealed for the first time to the world is Olga's secret Soby Pouring Medium Recipe. Say goodbye to guessing your measurements and unpredictable outcomes. Olga spent over two years perfecting this recipe, conducting hundreds of experiments to finally 'crack the code' to consistently achieve stunning results. In this module, you will discover:
The 3 secret ingredients Olga uses in her unique recipe to deliver awe-inspiring results … every time
Olga's easy-to-follow step-by-step instructions detailing how to mix the Soby Pouring Medium precisely using the "measure by weight" method
When to use and when not to use tap water in your recipe
Why the Soby Pouring Medium Recipe will improve the adhesion, and binding properties, and give your painting a better cell reaction
Olga's foolproof ratio mixing for consistent results
Links to the Soby Pouring Medium Recipe ingredients and supplies Olga uses
Plus an extensive list of the ingredients not to use if you want to emulate Olga's style and results
"Hi Olga, what an amazing difference your secret recipe has made for me! I did 3 paintings yesterday; they are all vibrant with color, the compositions were so much easier than I had ever done before - they flowed so beautifully! Thank you so much, this has taken me to a whole different level! With dependable results!!!"
- Tammy A. - 
MODULE #4
Consistency and How to Get It Perfect Every Time
In order to create beautiful fluid art, your colors need to have the right consistency.
This is a critical and often underrated step in the creation of your fluid art success. Knowing how to create your desired consistency is the key. In this module you will learn the following:
How to achieve the same fluid paint consistency for all your colors every time you paint
The consistency gold standard that Olga developed and always uses to create her beautiful fluid art
7 success tips for using Olga's drip test sheet properly (which we give you to download for free)
"Hi! I am beyond thrilled to finally have taken this course, Olga! Your course is incredibly well-structured, detailed, and informative. I have learned so much already, and I can't wait to see what else you have in store for us. One thing I really appreciate about your recipe is that it is given with exact measurements. This makes it so much easier to follow along and ensure that I am getting the right consistency for my paints."
- Riitu -
MODULE #5
Let's Mix! Mixing Paint with New Recipe Step-by-Step
Now it's time to mix your paint with the Soby Pouring Medium Recipe to achieve your desired consistency. This exciting module shows you:
How to mix your acrylic paints with unique Soby Pouring Mediums to achieve magnificent results and the perfect consistency
Olga's secret to removing all the air bubbles from the paint before commencing to paint
Insider tips for using the last bit of paint in a container so it doesn't get wasted
Olga's secret 2-minute hack to thicken your paint if it is too fluid
Professional insights and tips on how to store and extend the shelf life of your premixed acrylics
Your paint-mixing questions answered
"Olga thank you so much for this course. I've struggled with recipes, and cells, and there are hundreds of ways to mix paint. I can't wait to use your mix #1 and mix #2 technique. I've been pouring art for almost 4 years now and I can say you have helped me understand the formulas and why you mix them and so on. Thank you again for sharing your knowledge."
- Robin -
MODULE #6
Cells and Layering Secrets
Here we uncover Olga's secrets to creating exquisite cellular patterns that add depth and visual intrigue to captivate the imagination. Here you will discover:
The science behind acrylic pouring cells and how to use it to create elegant visual contrasts in your art
Why Olga doesn't personally use Floetrol or Silicone oil and what she prefers instead to produce consistent, predictable, and archival results
Simple technique Olga uses to create beautiful cells anywhere in your painting and achieve the effects your desire
Olga's new Two-Group layering method which is the core principle to achieving breathtaking cell reactions in your fluid art
How Soby Pouring Medium and Layering Method can help you avoid cell reaction if you don't want it in your artwork
Olga's secret to avoiding the common problem of your colors sinking into your base
"By taking this course, I am finally able to achieve the effects I have wanted in my artwork. Tons of beautiful cells in just the places I wanted them! The colors are blending so beautiful now and I can't Thank you enough for being an outstanding teacher and guide to fluid art for me. You truly have a gift and thanks for sharing it!"
- Shirley H. -
MODULE #7
Acrylic Pouring Techniques - Examples Of Layering
Olga demonstrates how to replicate her Two-Group layering method using specific pouring techniques to transform your blank canvas into a gorgeous work of art. You will learn the following:
How to master the Blowout (Dutch Pour) technique Olga is famous for so you can create similar pieces with theatrical flair
Olga's signature Dancing Flow technique and how to add it to your artistic repertoire for stunning results
How to use the magic of the Open Cup technique to create a vivid display of enchanting cells throughout your art
The secret to creating an endless ribbon of cells traveling through your art using the Dirty Pour technique
How to decipher Olga's special paint color 'language' she uses in her YouTube videos to further your fluid art education
"Thank you Olga for sharing your knowledge!! I must say you gave a lot of valuable information. Learning about the densities and layering was particularly interesting. Now I understand why I got some of the results in my art. Simply put... my colors were layered wrong!! I encourage anyone with an interest in fluid art to take all of your courses. All of them have taught me so much and your presentation is so easy to follow. You truly are mesmerizing to watch and really stimulate my mind to really go for it. Thank you for inspiring me and giving me the courage to press on. Thank you from the bottom of my heART. ❤ "
- Shelley -
SOUNDS AMAZING? WAIT, THERE IS MORE!
Get Access to These Bonuses:
Affiliate Program
As a Student of This Course, You Can Become a Soby Art Academy Affiliate and Receive a Generous Commission for Every Purchasing Referral You Send Our Way!
HOT Tips and FAQs
Get access to even more helpful pouring insights, cleaning tips, and recommendations from Olga + the most popular questions answered.
"This course is the best thing I have done!!! I am VERY new to acrylic paint pouring and I have loved loved loved your style from the first video I watched!!! Beautiful vibrant colors and flowing "petals" or "flowers" and cells concentrated more in the middle! I feel so blessed to learn how to do it myself! So…first step was buying paints last week, as well as new pouring medium ingredients…I got my shipment in this afternoon and I have started mixing paints!!!! Wooohoooo!!! I LOVE all the colors I got and am having a difficult time deciding what to mix….so I am doing A LOT of mixing! Hahaha!! I can't wait to paint!!!"
- Leette D.

-
Secret Recipe For Fluid Art Success Is For You If …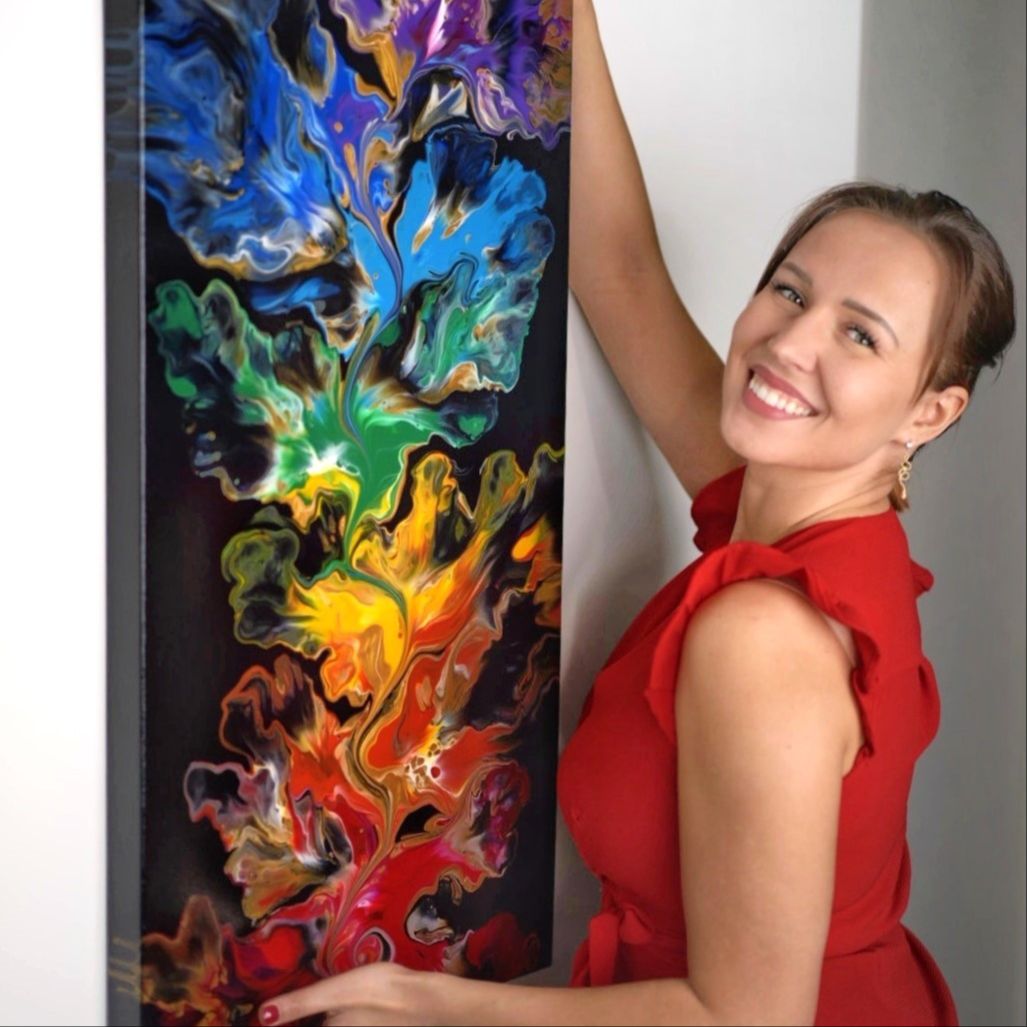 You want to learn how to create majestic fluid art like Olga,

but your self-doubt of not being "talented enough" has held you back
You currently paint using fluid art techniques,

but your results don't come out as you planned or are inconsistent, and you want to improve that
You want to know how to intentionally create beautiful cells in the areas you desire

and not have it occur at random
You want to stop wasting canvases and paint

and start saving money by producing art you can be proud of
You have tried many pouring medium recipes in the past that didn't work,

and you just want to find one that is proven to work and isn't expensive and complicated
You live a busy lifestyle and

want a relaxing hobby to release your creative side and self-expression
You love Olga's art and would like an

inexpensive course that shows you step by step in detail her secrets and techniques
You have watched and enjoyed many of Olga's free videos and

now are ready to create your own masterpieces by learning her secrets and following her instructions
Learn How To Paint Like Olga.
Enroll in the Secret Recipe For Fluid Art Success Today!
"Hi Olga! I'm not a beginner in fluid art but I knew I if I took your course I would still learn so much more ! My favorite part was learning about the denser paints and how to apply the layers to achieve the look you desire ! Also I can't wait to try out your pouring medium recipe! It's so smooth and silky! You really presented an intelligent approach to understanding the dynamics of fluid art! Now I will go back and watch it all over once again!"
- Susan -
"Olga, this course was extremely helpful. I never understood why viscosity mattered when we were making the paint fluid anyway. I now fully understand. Thank you! I've been painting for 3 yrs and my results would rarely turn out how I expected or wanted even though they were pretty. Now that you have taught me in depth about layering the paints I really think I can get the results I'm wanting. **Incredible course** Thank you for putting this out for us all to learn from."
- Shelly -
"Hi Olga, thank you for sharing your knowledge!!! I have been a big fan of yours for a couple years now and wish I had this course from the beginning. Now I finally understand paint density and how they interact with each other. I am so excited to try painting with your pouring mediums and the new knowledge you have given me. You are amazing!!!"
- Brenda -
"This was amazing! When I say I don't know anything about painting, I literally don't know ANYTHING about painting. This course was absolutely perfect. It was full of information, and the step by step process was so easy to understand. The things I've painted I never would have thought I could do until I was able to understand it with this course. Thank you so much for making this available."
- Bobby -
"I am so glad I decided to take the online courses. I have learned so much. I was getting very frustrated doing this on my own and I was so happy to finally see that Olga started teaching these courses. Now I am getting a lot better, so thank you Olga for doing this. I am still learning but It will get better with time and practice."
- Marline R. -
"Hi Olga! You were actually my very first fluid artist I found online almost 2 years ago -- you inspired me to think "maybe I can do this type of painting!" I have found so much joy in learning this style of painting, and am constantly amazed at your techniques, style, teaching and artwork! I bought the New Recipe Course and it is INCREDIBLE! I can't wait to test it out and see how my abilities grow! Thank you for sharing your knowledge and for making what felt like the impossible, possible (and as a science nerd, I absolutely love how you provided such easy guidance for making the new recipe!). Thank you!!!!"
- Whitney D. -
"Ms. Soby, The course blew my mind. It was obviously well-planned. You explained clearly; the handout will be invaluable; you didn't appear rushed; and you didn't make me feel like you were inconvenienced when you provided recipes and procedures. (Yes, I've felt like that in paid fluid art courses before.) My mom majored in biology and chemistry, and your course would have totally fascinated her. I decided to watch it through and take notes next time around - I've been taking notes on your videos for a long time. The first good painting, once the ingredients are delivered by the art supply store, will be worth every penny of the course. I think it was worth the wait. (Or weight - or density - as the case may be.)"
- Rebekah C. -
"I have just finished watching your entire presentation for the first time. I was impressed with your technique, and was really surprised at the components you used. It was so much good information that I will watch it a second or third time, taking notes. But, I will also have to invest in many of the products because several things I do not have. I will anxiously await their arrival to try your technique. I hope, with practice, I can create canvases that are as beautiful as yours."
- Carol S. -
Frequently Asked Questions
Will I be able to get supplies in my country?
Can I take this course in different languages?
Is Secret Recipe For Fluid Art Success suitable for beginners?
I love watching Olga's videos online, but I don't know if I could do it because I don't have her talent or creativity. Can this course help someone like me paint beautiful art?
I've tried many pouring recipes in the past that I found on YouTube and even paid for some, but none of them gave me the results I wanted. What makes the Soby Pouring Medium Recipe different?
I have been doing fluid art for a while and had some success. Will this course teach me anything new?